본문영역
Marine Service- Ship Equipment Sales
As an exclusive agent of Hansol Lighting , G-Marine Service is please to
offer you LED(Light-Emitting Diode) lightings for your vessels.
This LED lightings is the first and only vessel lightings which is accredited by Korea
Register in terms of temperature, vibration, humidity charge of voltage and electromagnetic interference.
Features of Hansol LED Lightings
- Save 35,000,000 won per vessel per year ➝
initial installment payment may be recovered in 1.5 years
illumination is 50% higher but consumption of electricity is 50% lower than ordinary fluorescent tube
- Life span is more than 50,000 hours (semipermanent) and mercury free (eco-friendly)
- 3 year guarantee
Hansol LED Lightings has been used by vessels of Polaris Shipping, Samsun Logix, Ssangyong Shipping,
etc. since 2011 and high power such as 200W~750W LED Flood Light has been installed by Hyundai New-Port Terminal ,
Port Terminal Facilities (gantry cranes, transper Cranes, lighting towers) of Korea International Terminals since 2013, thus both saving
energy and improving operational efficiency of the facilities.
LED TUBE Picture
5,000TEU CNTR Vessels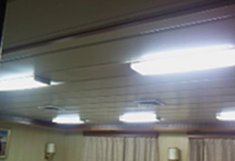 Accommodation area T10 600mm
ENG Room T10 1200mm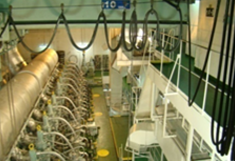 High Power LED Flood Light Picture & SPEC for Port Terminal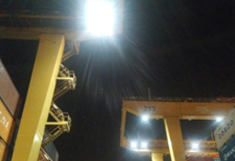 Busan Newport ARMG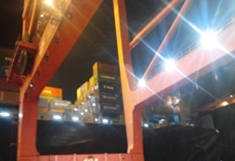 Busan Newport STS
International terminal lighting tower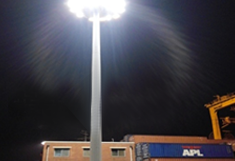 LED Tube for marine and ships product SPEC
| SPEC | HFL-1055 | HFL-2055 |
| --- | --- | --- |
| Power Consumption (W) | 10 | 20 |
| Lumens(lm) | 1,100(Typ.) | 2,200(Typ.) |
| Efficacy(lm/w) | 110(Typ.) | 110(Typ.) |
| CRI(Ra) | 80(Min) | 80(Min) |
| Color Temperature(K) | 5,500 | 5,500 |
| Power Factor(>%) | 90 | 90 |
| Input Voltage(V) | AC 100 ~ 240 | AC 100 ~ 240 |
| Dimensions(mm) | Φ32 x 580 | Φ32 x 1,198 |
| Weight(Kg) | 0.26 | 0.46 |
| Base | G13 | G13 |
| Housing | AL / PC | AL / PC |
| Beam Angle( ˚) | 140 | 140 |
| IP | - | - |
| Certification | KR | KR |
| SMPS | Internal Driver | Internal Driver |
LED Flood Light for harbors terminal product SPEC
| SPEC | HFR-26040 | HFR-40022 | HFR-40050 | HFR-70050 |
| --- | --- | --- | --- | --- |
| Power Consumption (W) | 260 | 400 | 400 | 700 |
| Lumens(lm) | 25,000(Typ) | 28,000(Typ) | 38,000(Typ) | 67,000(Typ) |
| Efficacy(lm/w) | 95(Typ) | 70(Typ) | 95(Typ) | 95(Typ) |
| CRI(Ra) | 75(Min) | 75(Min) | 75(Min) | 75(Min) |
| Color Temperature(K) | 4,000 | 4,000 | 4,000 | 4,000 |
| Power Factor(>%) | 90 | 90 | 90 | 90 |
| Input Voltage(V) | AC 100 ~ 240 | AC 100 ~ 240 | AC 100 ~ 240 | AC 100 ~ 240 |
| Dimensions(mm) | 430 x 490 x 123 | 430 x 490 x 123 | 430 x 490 x 123 | 530 x 510 x 168 |
| Weight(Kg) | 13 | 15 | 15 | 19 |
| Base | Wire | Wire | Wire | Wire |
| Housing | AL diecasting | AL diecasting | AL diecasting | Mg diecasting |
| Beam Angle( ˚) | 20 / 45 / 60 | 20 / 45 / 60 | 20 / 45 / 60 | 20 / 45 / 60 |
| IP | IP66 | IP66 | IP66 | IP66 |
| Certification | - | - | - | - |
| SMPS | External Driver | External Driver | External Driver | External Driver |