본문영역
New Building Supervision
We build and supervise vessels from the perspectives of ship owners.
Many superintendents specialized in newbuilding supervision with strong backgrounds
in design/construction are dedicated to offer newbuilding supervision service to the utmost.
With the support from Fleets Operation Teams, we build our customers' vessels based
on the state-of-art marine technology understanding and navigational expertise.
Performance Record
Type of Vessel
Completed
Under Supervision
Container carriers(1,100TEU ~ 13,000TEU)
84
-
Bulk Carriers(27K ~ 310K)
63
-
Crude Oil Carriers (VLCC)
6
-
LNG Carriers(130,000

㎥

~ 174,000

㎥

)
6
-
MR Product Carriers
3
-
Self Unloading Coal Carriers
3
-
Heavy Duty Carrier
1
-
Special Purposed Ship
18
3
TOTAL
184
3
Process
We provide each and every steps of newbuilding process from
specification review, design approval to construction supervision.
We aim to guarantee on-time delivery of your valued assets with zero-defects.
ORGANIZING
SITE TEAM

STEEL
CUTTING

STEEL WORK

BLOCKS
ASSEMBLY

PRE-
OUTFITTING

INSTALLING
EQUIPMENT

BLOCK
ERECTION

KEEL
LAYING

PAINTING
BLOCKS

SHOP
INSPECTION

LAUNCHING

INCLINED
/OTHER
TEST

SEA
TRIAL

DELIVERY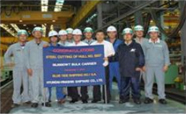 Steel Cutting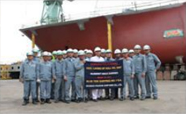 Keel Laying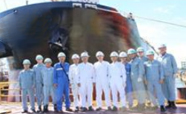 Launching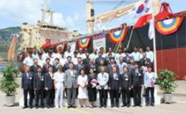 Delivery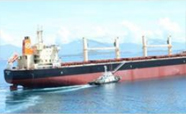 First Voyage
Superintendents
Qualification for SI : To have experiences as a 1st Engineer / Chief Engineer
To be eligible for top 5% group
To complete SI Training Courses (Candidate Selection → SI Internship for 12 months → Full-time SI)
Crew resource pool
BY YEARS
· Over 20 years
· Over 15 years
· Over 10 years
· Over 5 years
· Over 3 years
· Over 1 years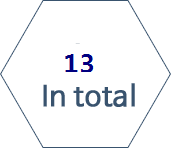 BY FIELDS
· Hull & Painting
· Outfitting
· Electricity &
Machinery
BY MAJORS
· Marine
Engineering
with newship
construction
· Maritime
University /
with On-board
Experience
Newbuilding Supervision Service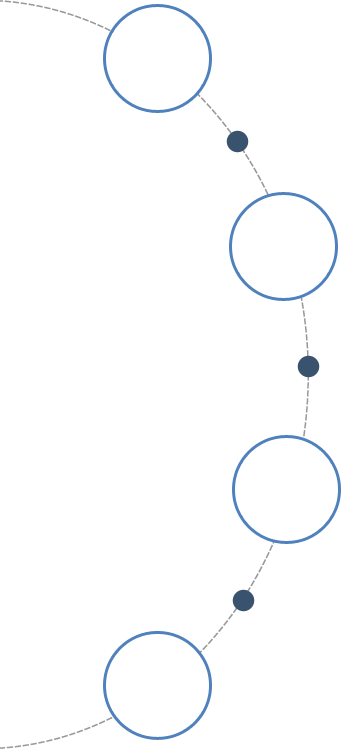 NewBuilding
Supervision
Evaluation
and
contracting
Plan
approval
Vessel
Construction
Delivery
and
Claim
TECHNICAL CONSULTING

·

Shipyard appraisal and selection

·

Specifications review (Reviews the new technology to apply the project)

·

Technical negotiation

·

Reviewing manufacturer and maker list
DESIGN REVIEW(PLAN APPROVAL)

·

Reviewing building specifications and makers' list

·

Manufacturer Selection

·

Analyzing proposed equipment and enhancement of intended supply

·

Plan approval

·

Negotiating any required modification and improvement with yard, in accordance with Owners directions and guidelines

·

Approving plans in compliance with rules, regulations, standards and the Shipbuilding Contracts
BUILDING SUPERVISION

·

Organizing a Site Team (selection of team member and,
management of working process)

·

Evaluating variation to Specifications or plans together with Site Team
and Yard and negotiating cost changes, if any, as agreed with Owners

·

Weekly & monthly Reporting to Owners about construction
schedule progress and any other relevant information (major non-
conformities, delays, changes in equipment, construction or design, etc.)


·

Attending inspection & monitoring to the project at the Yards and
Yard subcontractor's premises


·

Attending shop(factory) test , sea trials and ship systems commissioning
DELIVERY & CLAIM

·

Controlling ship documentation and certification in co-ordination
with Owners' legal department

·

Carrying Identification and organizing the supply of Builder's and Owners'
initial spares and consumables

·

Co-ordination and supervision of ship's crew phase-in plan

·

Reporting about all aspects of the project (defect or deviation from the Contract,
Specifications' changes for vessel's design improvement, etc.),
in an agreed format and schedule